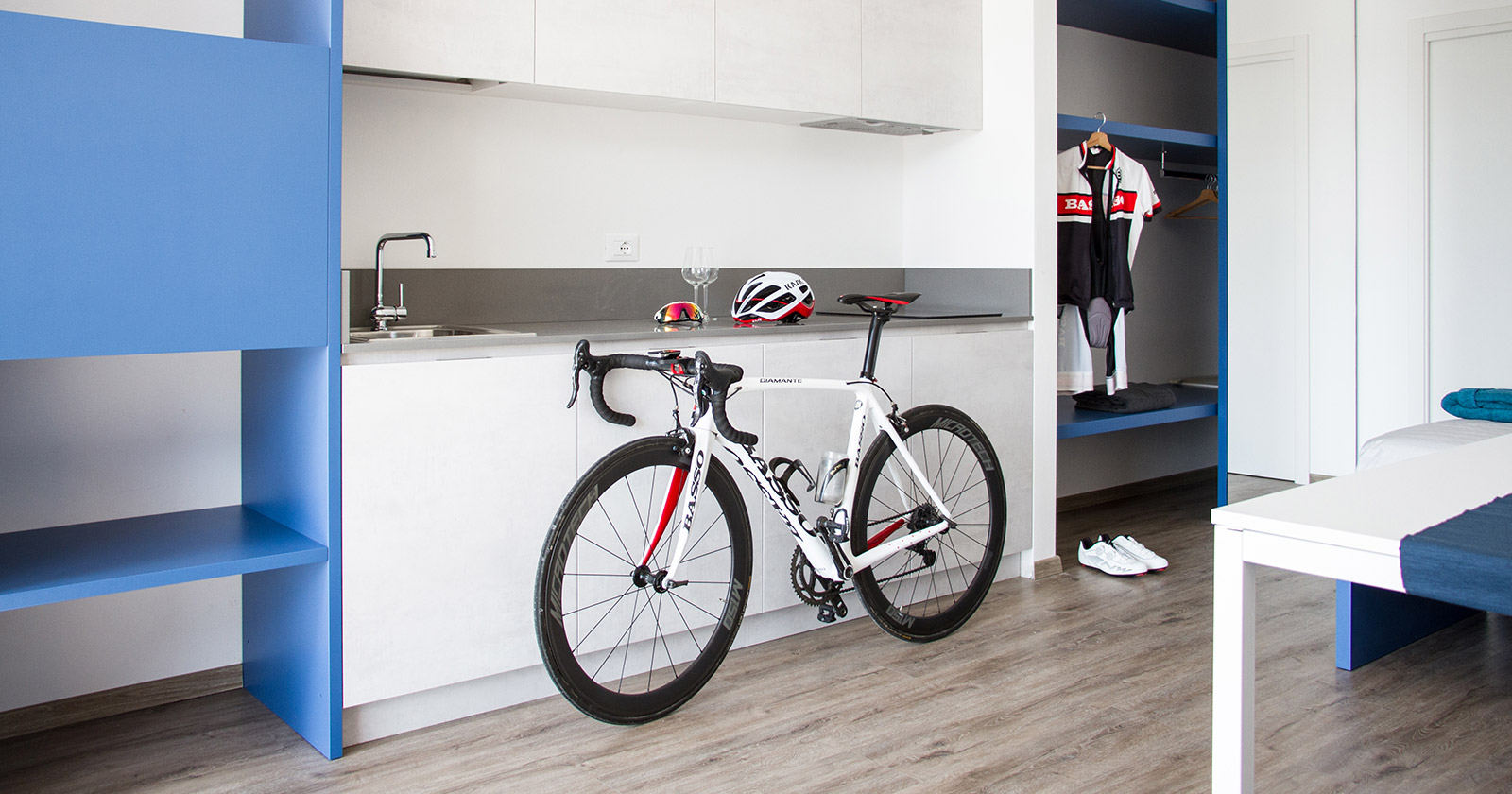 ingrappa SportHouse
Rooms for lovers of sport and mountain activities
In 2007, considering the good results obtained by Gianluca, Stefania, his sister-in-law and, like him, lover of sport and outdoor activities, decides to realize INGRAPPA SPORTHOUSE and to cooperate with Gianluca in this tourist hospitality project.
The new building, designed with care and attention to details, is built using eco-friendly insulating materials, like wood fibre, and partially adopting sustainable energy sources.
In this accomodation facility you will find a wellness area: sauna, steam room and hydrotherapy massage showers.
INGRAPPA SPORTHOUSE is designed to host tourists who want to play varied sports during their stay, in order to make the best use of the potential of this area: paragliding, biking or MTB, free climbing, hiking, trail running or canyoning.
Thanks to the sporty vocation of INGRAPPA SPORTHOUSE, it will be very easy to play all this sports, here you can hire all the gear you need and be guided by expert guides always at your disposal. Gianluca is a skilled Mountain Guide, with him you can enjoy free climbing, alpine skying, canyoning, climbing a via ferrata and walking on snow shoes. Other expert guides will let you discover Nordic Walking, Down Hill, MTB or Cycling Tours.
The general idea is to host our guests, giving them useful suggestions to play sport, but even offering relaxing moments in our wellness area and letting them discover our culture and our "wine and food".
The design is modern, rooms are bright and functional, the building is placed in a central position, not far from B&B INGRAPPA.
INGRAPPA SPORTHOUSE offers three different kinds of rooms: SPORT, RELAX and ROMANTIC, sport, played in different ways, is their common denominator.
the romantic room is a challenge for us, we have tried to realize a room for couples who love to play sport, but in the meantime would like to spend some days in a intimate and romantic place, in a little private corner where they can relax and cuddle each other.
the relax room is for lovers of soft sport activities, those whose first aim is to have a rest and play sports to breath pure air and immerse themselves in nature, not to train hard.
the sport room is for sportsmans, disciplined, well-organised, focused, this room is the perfect choice for those who are coming here to climb Monte Grappa, hiking or cycling, or to climb down on a downhill bike.
Double room designed to fulfil the requests of lovers of mountain sports and outdoor activities.
A room for lovers of relax, light sport activities and nature.
Room for couples that would like to spend some days in an intimate and cosy atmosphere.