Autumn: Sport and Wellness... for Body and Soul!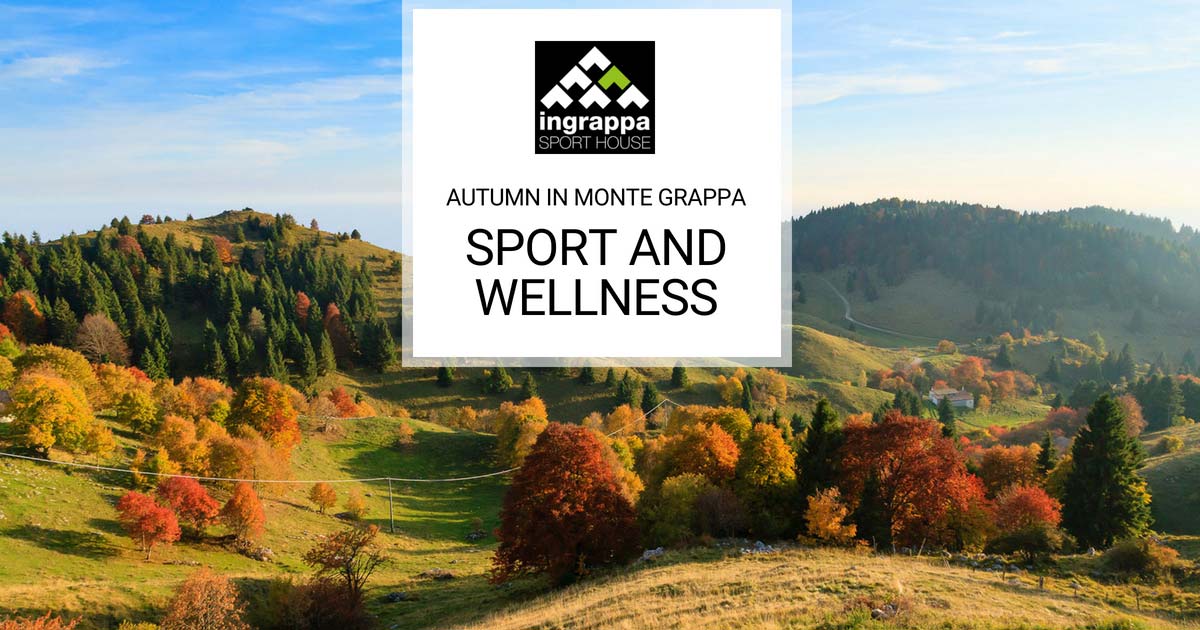 The Autumn colours of the trees leaves enchant the eyes and the heart. Nature prepare to winter giving us such beautiful sights and peaceful places where to rest. To restart after Summer holidays with enthusiasm and stronger determination to reach our goals is a common feeling in our society. Why do not conjugate this need with a pleasant stay in the Monte Grappa area?
Take a walk into nature
To reset our internal balance nothing is more worthy than getting closer to nature. Mother Earth whispers a little loudly in the woods and in the meadows. To reach those oasis of peace hasn't never been that easy as in Monte Grappa where the marked paths are numerous, some more suitable to expert hikers, others for families and beginners.
Monte Grappa will be the location of an international trail running race called "Trail degli Eroi" (Heroes' Trail) on Sunday 23rd of September. The competition will give an homage to the World War I fallen (this year is the Centenary of the End of the Conflict) while leading the athletes up and down the massif, along trenches and mule tracks. The steep sides of Monte Grappa are scene of personal challenges of athletes trying to reach the peak (Cima Grappa) as fast as possible.
Otherwise hiking is also a very popular activity even through the local people that love to walk in the woods escaping from the busy daily routine. Beautiful flowers and plants, wonderful wild animals may gladden your excursion as well as a glass of good wine and a cheese sandwich tasted in one malga or rifugio (alpine farm or refuge).
Ride a bike, find your way!
Monte Grappa has another great feature that attract bikers from everywhere: ten routes that all lead to the same point at the top: Cima Grappa. Some are more steep, others are longer and various, all are beautiful and breathtaking (in both senses!). Not only road cycling is suitable to the area: mountain bike tracks develop both in the mountain and in the near hills leading you through woods and meadows, discovering enchanting corner of the area once known as "Venice's Garden".
The local bike park offers you the chance to amuse and train in a delimited context, offering you also guide, bike's rent and shuttle service. A bike playground immerged in nature ideal for the first contact with local paths and environment.
Give yourself a cuddle
After a day spent immersed in nature, maybe exploring some wild part of the woods, you deserve a little cuddle. Enjoy our cozy wellness area with sauna and steam bath and, why not, ask for a massage to our staff. Your muscle will be stretched while your soul will recharge.
Try new experiences!
Outdoor sport choice of the area also includes climbing walls and vie ferrate. An expert local alpine guide is available to take you to the best spot to practice this activity.
Paragliding and Hang-gliding are so popular here that Monte Grappa sky, especially in Autumn, are filled of beautiful and coloured wings!
The flight site includes eight take-off areas and two landing fields. Shuttle services, weather and technical information are available by asking to our staff.
If you are not a pilot but you wish to try this amazing emotion of flying above the great Venetian Plain, you must absolutely try a tandem flight. You will experience this lightness and peaceful sensation in total safety.
Rafting, canoeing, speleology, Nordic walking and much more disciplines are also available in the area, you won't absolutely have time to bore yourself!
Monte Grappa can be the right corner of peace and wellness you need to recharge your body and your spirit, we are waiting for you to make you spend an outstanding Autumn!